Now, contrary to popular belief, the adult entertainment industry is recession proof, heck if anything it is growing by the minute. First & foremost, people (particularly women) are more open minded nowadays than ever before. Due to the economy and people not going out as much anymore, they're staying home a lot more, so they need something to do, right? Well, what better! ;-) The gaming industry for example, has grown emensly over the years, due to everyone needing to stay home. And let's not get started with how many couples are having babies left & right. ;-) So Yes, Sexual Intercourse is quite popular, wouldn't you say?
Adult novelties are in the midst of a renaissance.
Although, on the other hand, despite high unemployment rates and shoestring household budgets, America continues to find money in its pocket for sex toys. If you're in a relationship, you need to spend more time with your partner and this often leads to wanting to rekindle or enhance a sexual relationship. In a recession, people are seeing that sex is a way to not spend a lot of money. If you buy a sex toy for $150, that's going to buy you a lot more entertainment in the long run than a dinner or show. That $150 price tag might surprise some people. While certainly there are hundreds, probably thousands of toys that cost significantly less, the best sellers in the current economy are high end items.
What are sex toys?
Sex toys can be an exciting way to spice up your sexual life, whether using them by yourself or with others. There are many misconceptions that sex toys are only used by people who choose to remain abstinent, do not currently have sexual partners, or by gay men and lesbians. The truth is, people of all types use sex toys. Some choose to use them when they are alone, on their sexual partners, or on themselves while partners are present.
How can I bring sex toys into my relationship?
Sometimes it's hard to communicate our sexual desires to our partners, especially when wanting to bring something new into a sexual relationship. Some people may feel threatened by the thought of having sex toys added to their sexual life or they have stereotypes about who uses sex toys. Honesty and open communication are the best strategies for talking with sexual partners about sex toys. Your partner needs to understand where you're coming from, what you're interested in doing, and how you will respect their boundaries, in order for sex toys to be a healthy, pleasurable part of your relationship.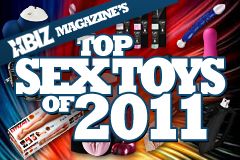 XBIZ Magazine Lists Top Sex Toys of 2011
From groundbreaking technology to downright freaky fetishes, 2011 introduced a whole new wave of products that changed the world of sex toys. Culled from a long list of pleasure product contenders vying for honors at the 2012 XBIZ Awards, XBIZ Magazine is pleased to present the Top Sex Toys of 2011.
Read More »
http://www.xbiz.com/news/142825
As the Mercedes Benz of sex toys, Lelo rolls out nothing but luxury. The SenseMotion Insignia line ups the ante with revolutionary technology characterized by unique motion-activated controls that work via a wireless remote and a 39 foot wireless connection. The SenseMotion Insignia collection features three massagers that respond to a flick of the wrist or a tilt of the palm. A Great Featured Toy is
TIANI

The Premier Wearable Couples' Massager with Wireless Remote
Tiani™ is a landmark creation for couples the world over; a luxurious addition to your love life that can be worn by women during intercourse or for an intimate hands-free experience. Featuring revolutionary SenseMotion™ technology with a wireless remote, a simple flick of the wrist will adjust vibration patterns at any time you choose. More than this, the waterproof silicone design and smooth flexible form brings absolute comfort to both partners – making a great experience even better, while setting a new standard for couples massagers in the world today.
From now until February 14, our beautiful Tiani is available in a limited-edition Valentine's Gift Sleeve. The heart-shaped design on rose petals slips beautifully over the existing packaging, making this the perfect gift to spice up those romantic nights in. Get Yours Now. Lelo
Have A Great Time Playin' Around